Only 6 reviews in 6 months? Yes, that's the sad life of someone who spends most of his time reading textbooks... because he has to.
Quality With Soul: How Six Premier Colleges and Universities Keep Faith with Their Religious Traditions by Robert Benne
.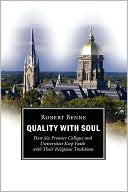 This was one of two books I was required to read by my department (the first was the much more
thorough one by Marsden
).
It chronicles how Calvin, Baylor, Valparaiso, Notre Dame, St. Olaf's, and Wheaton
are maintaining (or losing) their Christian foundations.

Benne is Lutheran, and makes the case that the Lutheran approach to education is the best, but also shows how the Lutheran schools he chronicles are quickly becoming secular. So goes this book.
I didn't find his research to be consistent or very good at any of the universities studied. The Baylor he described is quite a bit different than the one I observed when I attended there. He published the book in 2001 and still lists Baylor as being a "proud" member of the SBC, which it no longer is (and hadn't been "proud" of in a looong time).
In fact, he missed so many marks on Baylor that I figure he didn't do much better anywhere else.
But the info on Calvin was interesting as it's still hardcore Reformed and producing very solidly intellectual students.
2 stars out of 5. I think I only know 1 person who would be midly interested in this one.